Seeedstudio Rainbowduino Carnival 2010: 2m x 1m wireless (wifi) wall
Hi, I made this "little" 2 meters by 1 meter (12cm depth) wall using 1 wireless router asus wl500gp, 1 seeeduino (arduino) and 2 rainbowduinos and 128 RGB LED's (16×8).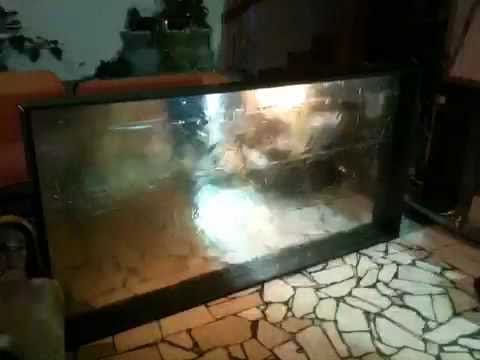 BUILDING PROCESS
Frame is made of laminated chipboard (18mm) 2 meters by 1 meter, back side is made of 4mm plywood on which holes are dilled for LED's. LED's I bought were not difussing colors nicely (you could see 3 separate circles for each color, but they were very cheap) so I had to improvise and I glued 1.5cm by 1.5cm peace of tracing paper to diffuse/mix colors. And in front of LED's is 4mm thick textured glass. Texture of glass has little squares so it difuses light strangely making pyramids from LEDs and adding artificial depth to wall (LED looks like it's on top of pyramid and walls of pyramid  look like they are going 10-15cm downwards into wall).   Firmware in arduino and rainbowduino's is michu's  neorainbowduino (http://www.neophob.com/). On Asus openwrt is installed and ser2net is used to relay tcp data to arduino plugged into USB port of Asus router. Asus router also has USB wireless card configured as client that automatically connects to my home router. So basically when wall is turned on Asus router connects to my home  router and opens tcp port, and all data sent to that port via telnet gets relayed to arduino. On PC side I made two programs using autoitscript (http://www.autoitscript.com/) One is simple editor (for the time being, but I'm planing to improve it by adding ability to make animations by storing frames with incrementing numbers in name of file and replaying them afterwards) that is used to draw on wall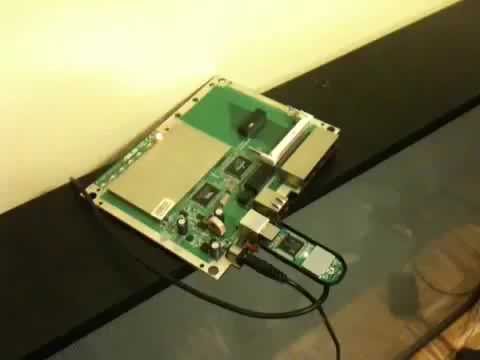 SIMPLE EDITOR
Second program grabs 16×8 pixels color value from active window on PC (windows only) and send's those pixels to wall. It can be used to "transfer" winamp visualization to wall, or make huge ambilight or… whatever.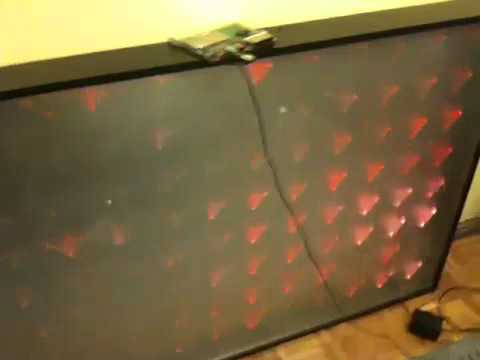 There is also possibility to write for example python (which I'm planing to do soon) scripts that would be executed on router itself so eliminating need of PC for some tasks (like collecting time from NTP server and displaying big clock, displaying RSS feed directly from internet…)
EDIT: "Just added clock with plasma background"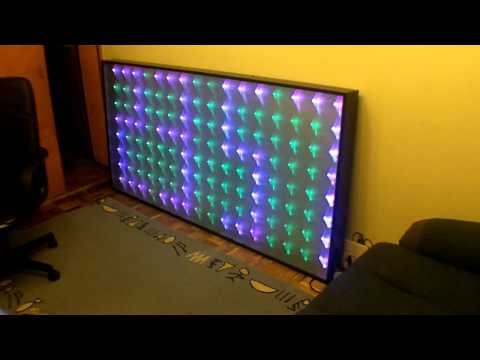 Here are autoitscripts I made so far…
http://siklosi.users.sbb.rs/editor.au3
http://siklosi.users.sbb.rs/screen2rain.au3
http://dangerousprototypes.com/2010/12/21/huge-wireless-rgb-led-display/
http://www.electronics-lab.com/blog/?p=7774